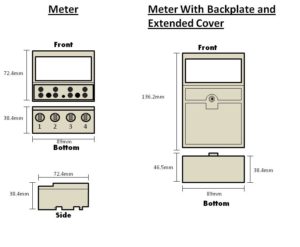 To allow our micro-grid customers to optimize their systems for maximum performance we have designed our meter to provide as much information as possible and whenever required.
Our WiFi meter has the following features:

Meter tracks Voltage, Current, Active Power, Reactive Power, Active Energy, Reactive Energy, PowerFactor, Frequency, Temperature, and Active Demand.
Meter exceeds Class 1.0s certification.
Meter can remotely disconnect power from a power system's customer.
Meter is contained in a ruggedized tamper resistant case.
Meters are designed to be low cost, easy to install and take up a small footprint.
General Specifications
| | |
| --- | --- |
| Absolute Maximum Voltage | 300v |
| Minimum Voltage | 100v |
| Rated Voltage (Un) | 200v/240v |
| Extended Operating Voltage Range | 40%-120% |
| Maximum Current | 100 Amperes |
| Meter Class | IEC 1.0 S |
| Frequency Rated Frequency (fn) | 50-60 Hz. |
| Pulse Constant | 1000 impulses/kW |
| Shunt Resistance | 250 micro Ohms |
IEC Data
Meet or exceeds IEC
Class 1.0s
Actual active energy within
+/- 0.5%
Starting Current
0.05 Amperes
Creeping Current
No current and less than one pulse
Power Consumption
Active Power is 0.7 W
Apparent power is 1.5 VA
Current circuit 0.15 VA
Insulation Strength
4 kV for 1 minute
Pulse Voltage
8 kV
Protection Class
Class 2, Double Insulated