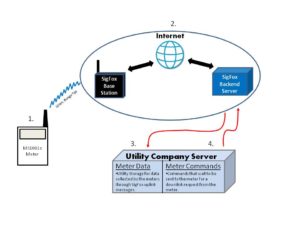 The SigFox network is composed of three main components, the devices, the base station, and the SigFox backend server. It is an extremely robust system with multiple redundancies and it can handle millions of meters.
Uplink packages where the module provides data to the user takes the form of 12 bytes. These can occur at a minimum of every 1 minute and can be sent up to 140 times a day. Downlink packages where the module requests commands from the user can also occur at a minimum of every five minutes but can only be requested 4 times in a day.
For an uplink message, data flows from the MS1001s meter to the base station and the SigFox backend server where the data is then sent to the Utility's server. The order of this process in the image below is 1-2-3.
For the downlink message the meter first sends data to SigFox backend server along with a request for a downlink. The SigFox backend server then requests a command from the utility server, if there is a command, it is sent to the SigFox server after which it is sent to the meter. The order for this process is 1-2-3-4-2-1.
For more information about SigFox and its network as well as coverage please visit their company website.